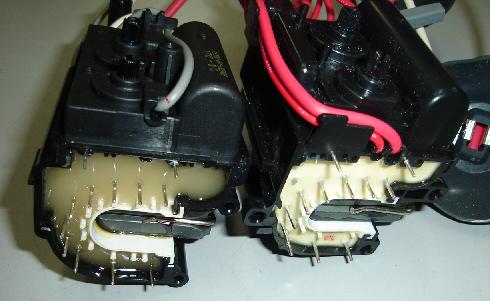 In the upper side there is only one winding and the rest four of total five is in the lower side. It has a solid core with a view to producing very high frequency. It has the extra high voltage (EHV) cap and also an EHV cable through which it is connected to the anode. The two windings may be set separately or may also be concentric. For concentric winding the upper winding is the high voltage side and there are some base pins at the base of the transformer. For separated windings the secondary is the high voltage side. The fly back transformer has the following five major duties:
1)
It induces a very high voltage for the anode (17 KV).
2)
It also produces saw tooth voltage to drive the scanning coil.
3)
It produces ac voltage (6.8V) (from the secondary winding) which is sent to the CRT (heater).
4)
It synchronize the whole system through a feed back path.
5)
It produces a low B+ (35 V) which is sent to the stabilizer.